Restaurant Dar Essalam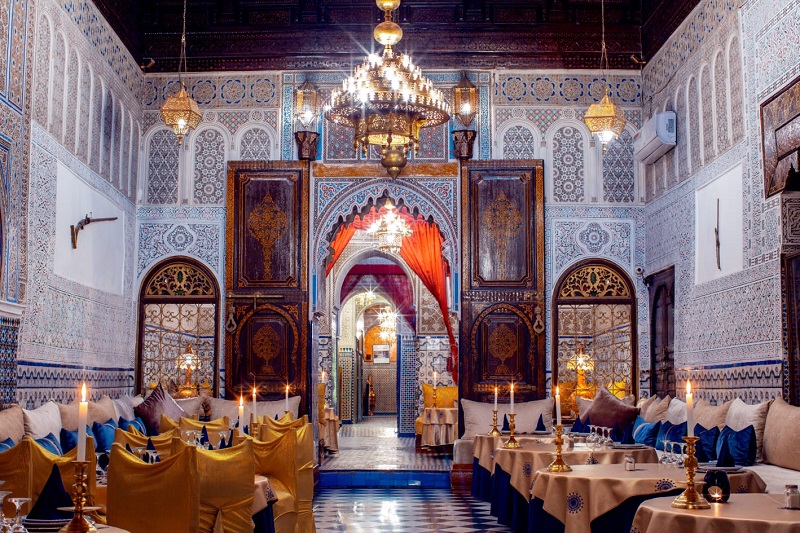 In the heart of the medina where tradition and modernity blend, an authentic restaurant has several years of perfectly preserved stories, Dar Essalam, that no longer presents. Winston Churchill, Charles Trenet and Alfred Hitchcock enjoyed the refinements of Moroccan cuisine, punctuated by oriental songs and dances. Change of scenery guaranteed.
To better serve you, the restaurant has several rooms adapted to the demand with each its architectural particularity and its history.
The K'Dim room is the oldest and most refined, dating from the 17th century, it is exceptional both by its great standards of Islamic art and by the richness of its ceilings and doors. It is even here where was filmed Alfred Hitchcock film « The man who knew too much »
The Royal room is a typical Arabian-Andalusian lounge, characterized by its huge cupola and splendid fountain, it presents the traditional Moroccan architecture and is also ideal for the organization of seminars and congresses.
The Marjane room with its impressive decoration in wood, copper and traditional mosaic allows you to spend a pleasant moment of relaxation, alone or with friends, in a warm and friendly atmosphere.
The creation of the Bahja room goes back to the 18th century, its charm lies in the beauty of its walls and ceilings.
The restaurant Dar Essalam is the ideal place for your gala evenings, conferences, family celebrations...
Hier sind einige Bilder aus dem Film von Alfred Hitchcock "The man who knew too much".